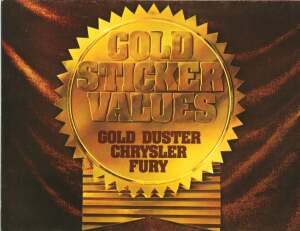 In the spring of 1973, Chrysler Corp. released some specially equipped models to boost mid-model-year sales. Touted as the "Gold Sticker Values", these special models could only be had as the package specified, with the possible addition of some optional equipment.

There was a Plymouth "Gold" Duster, a Plymouth Fury Special and this Chrysler Newport "Navajo" Special Edition.
The 1973 Chrysler Special Edition boasted special Navajo-cloth on a white vinyl bench seat, copper-red shag carpeting, white vinyl top and copper metallic paint with orange pinstripe. The chromed road wheels seen here were an option. It was available as a two-door and four-door hardtop as well as a sedan.